Ralston Steel Car Co. - 1920-29 cars
I have only these three photos from the 1920's, Ralston may have given up photographing their work in the 1920's or that volume of photographs may have been lost.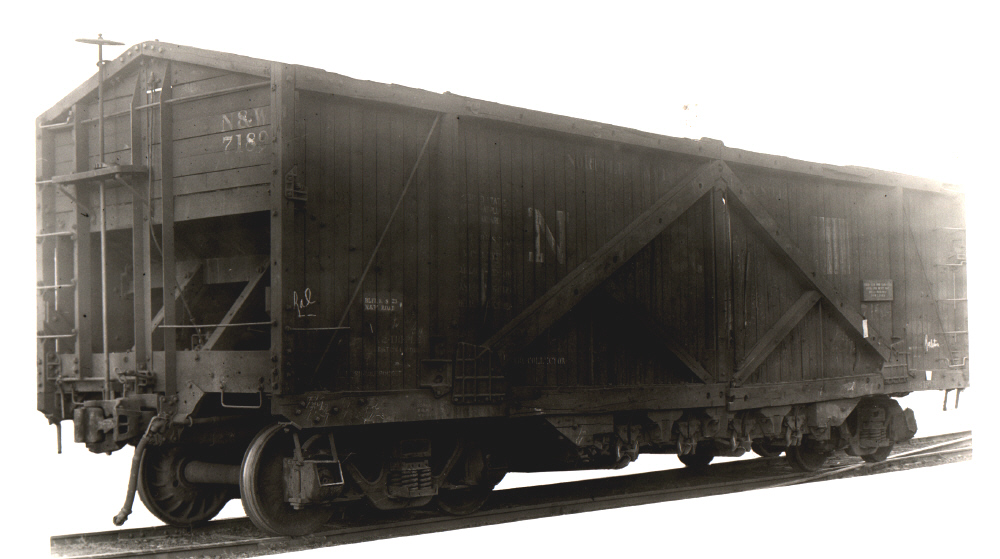 200dpi jpg (217K) photo 185
The all wood N&W coal hopper is an HSa, built during WWI to conserve steel. Even the underframe was wood. These were all "rebuilt" by Ralston in the '20's as inside-rib HSb coal hoppers; only the couplers, trucks, brake equipment, Wine door locks and some grab irons were re-used. Some were rebuilt again in the '30's with 2 instead of 4 doors. The flat bottom hoppers were used extensively by N&W and a few HP/H1 cars survived into 1950, although revenue HSb's were last used at the end of WWII.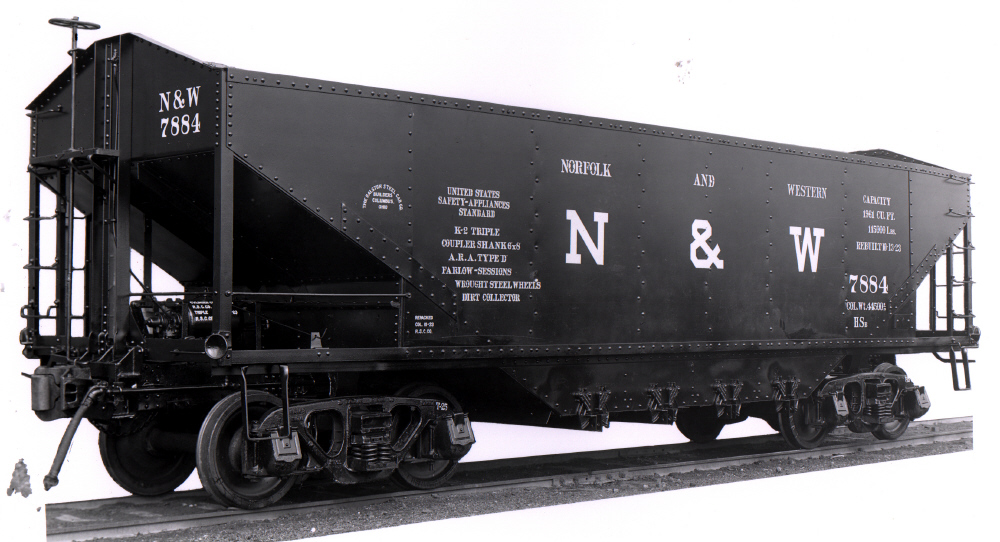 200dpi jpg (260K) photo 176
Norfolk and Western Railroad hopper #7884 is shiny new having been rebuilt October 13, 1923. Notice that the hopper doors are unlike what you would find in a typical coal hopper. This car can carry 57.5 tons also more than a typical coal hopper. A typical coal hopper car would have an inverted "V" insert in the middle of the hopper to funnel the coal to one of two hopper doors while this car has four doors and no insert allowing it to carry more material.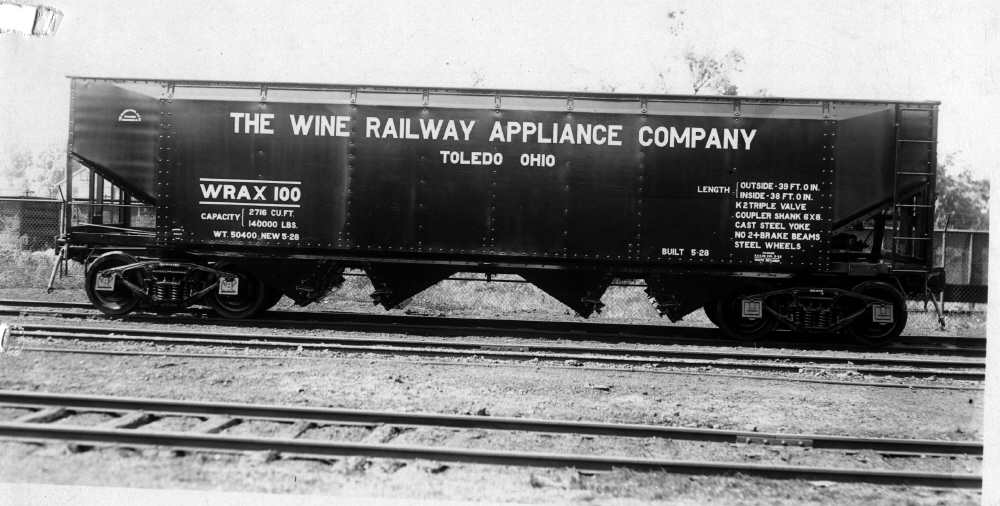 200dpi jpg (241K) photo 96
This 70 ton hopper car is a demonstration car for The Wine Railway Appliance Company. The car was new May, 1928. This company was not a railroad, but rather a manufacturer of specialty parts for railroad cars which were referred to in railroad jargon as appliances. The Wine demo car was used to advertise their widely used door locks or latches. This car ended up in the Pittsburgh area on the coal shortline, Montour RR. Santa Fe also had at least one of these cars. Wine locks were the most widely used on hoppers and drop-bottom gondolas. Their biggest competitor was Enterprise Rail Appliance Co. Wine locks were copied by the Soviets and were/are used on the vast fleets of Russian drop-bottom gondolas, preferred over open hoppers as more versatile.